United Way Video Honored With 3 Telly Awards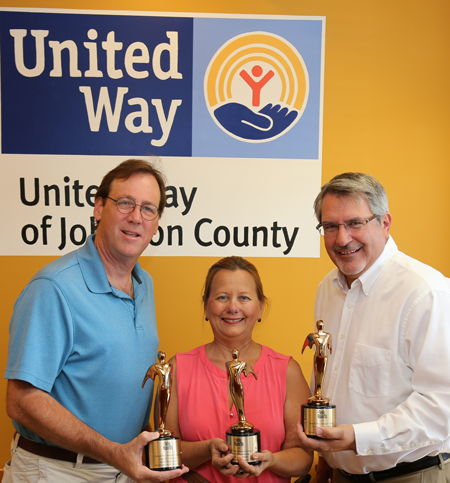 A campaign video for United Way of Johnson County has earned three prestigious Telly Awards for production excellence.
The video "Because of You, We Live United 2016" won Bronze Telly Awards in the categories of Not for Profit for Non Broadcast Production; Charitable for Non Broadcast Production; and Fundraising for Non Broadcast Production.
Honored for the project were Barney Wood, President of Wood Innovative Group LLC, producer, director, videographer and editor; Jeff Owen, Partner of Clever Dogs Media Inc., editor and producer; and Nancy Lohr Plake, Executive Director of the United Way of Johnson County, producer.
"I feel like this is one of those projects that really makes a tangible impact on the community of Johnson County. When I am done I feel like this will make a real difference in people's lives," said Wood.
Owen said the annual video shares remarkable stories of people whose lives are greatly improved by United Way's agencies. "It is an emotional journey on this project. The people we interview are so grateful to those who give to United Way."
Plake said the video was critical to the success of the 2016 campaign, which raised nearly $1.5 million. The video is shown during campaign programs throughout the county. "It helps donors connect to our agencies and understand the importance of their contribution."
Founded in 1979, the Telly is the premier award honoring outstanding content for television (cable, digital and streaming) and non-broadcast distribution. Winners represent the best work of the most respected advertising agencies, production companies, television stations, cable operators and corporate video departments in the world.
This year's winners include companies, agencies and organizations of all sizes, from large multinational media companies to small ad agencies and local production houses. Judges reviewed more than 12,000 entries.
Wood Innovative Group won 14 Telly awards overall. Since 1988, Wood Innovative Group has now received 33 Telly Awards, two EMMY Wins, 12 EMMY Nominations, two Beacon Awards, three ICTA Visions Awards, three Davey Awards, and one Jack E. Reich Award.
These are the first video honors for Clever Dogs Media and Owen.
Watch the 2017-2018 Video