What to Do About a Hater on Facebook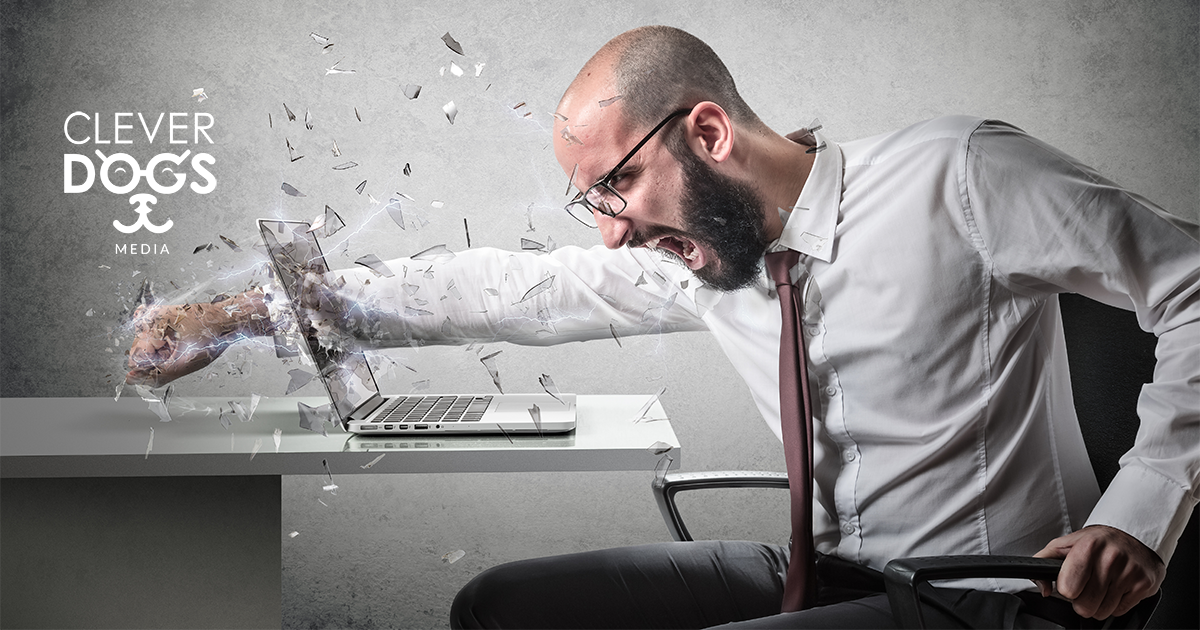 They can be mean. They can be incorrect. And they can be hurtful to your business or personal reputation.
While a Facebook business page remains a great way to connect within the online marketplace, a person who trolls your page and posts nasty comments might make you reconsider having one.
Dealing with a Negative Ned or Nancy on Facebook can be a frustrating experience. Your first instinct is to lash out with voracity. And when that fails to resolve the issue, your second instinct is to shut down your account.
That would be unfortunate because Facebook still has an enormous reach and is a vital digital marketing tool. More than 70% of American adults use Facebook. A lot of people hang out there, and your company's presence is good for business.
Read: "Why Facebook Remains a Digital Juggernaut"
Our clients overwhelmingly have excellent experiences with their Facebook pages. Positive posts have assisted their online marketing momentum. But there have been times when trolls/haters have impeded their progress.
Before deciding what to do about trolls, you need to first understand why they choose to air their grievances on your Facebook comment section. This helps keeps in perspective the difference between a legitimate complaint and the haters (who we call Negative Ned and Nancy).
About Negative Ned and Nancy
They generally don't read original posts - nor do they click onto the link which may address their concerns. They simply overreact to the title or image.


They usually are not even arguing about your original post. They often engage in conversations with someone else who has commented on your post - and the squabbling veers off course. They are known to go down the divisive and dark path of politics.


They typically just want their opinion to be heard and get the most reaction out of people by disagreeing with your post - any post.


They typically are not trying to find a solution to an issue. They believe that complaining online resolves them of any responsibility to help your business be better.


They are generally insecure people and find it is easier to post a bad comment rather than call your business with a concern or recommendation.


They often feel no one listens to them, so they seek a way to engage somewhere online. They look for conversations where they can comment - even if they have no dog in the fight.


They would never say their mean comment in-person to a group.
How to Handle Negative Ned and Nancy
Keep in mind that you will never win a Facebook argument with them. They see themselves as being right - no matter what they post or share. You can ban them from your page or delete the comment. There is a risk, though, that followers of your page become suspicious or angry that you ignore complaints - even if the beef is not legitimate.
Here are a few Dos and Don'ts:
Respond in a Timely Manner. By responding quickly, you are telling the public (not just the troll) that you care about what people say and that you take concerns seriously. Ignoring the comment tells everyone that neither your Facebook page is not a priority.
Remain Cool, Calm and Collected. Stay as professional as possible in your response - even though your natural reaction is to fire back (especially at an idiotic comment). Apologize for the experience (not necessarily their claim), and offer to have a conversation with them by telephone. This sends the signal that you really care about resolving the issue - not only to the complainer but also to all of your followers.
Make It Personal. Don't use a canned response such as: "Thank you for responding. Your comment is being reviewed by our management..." Respond as the business owner or manager such as: "Hi (commenter's first name). My name is Jeff and I am the partner of this company. I would really like to talk to you about your negative experience or your idea of how we can improve. I am available to talk this evening..."
Offer to Take the Extended Conversation Offline. You also can respond publicly by writing: "I have just sent you a personal message to learn more about your experience." If the troll doesn't want to speak to you personally, he or she might be willing to "talk" through Facebook without others reading it. Facebook allows you to have that conversation privately.
Keep the Comment on Your Facebook Page When It's Legit. People understand that not everyone is perfect. They know your business is not perfect. When they see how you calmly handled a hater, you are more likely to improve your credibility and reputation.
Hide The Comment From Your Public Page. If the hater's comments are totally irrelevant or offensive, you can make it disappear from the public when they come across your page. The comment still appears on Negative Ned and Nancy's page and can be seen by their friends. But it will not show up on your page's public feed. For business/organization pages, click on the "X" by the comment and select the option to hide it.
Delete It and Ban the Obvious Hater. Fans who follow your page don't want to see trolling comments from the same person over and over. Delete anything that is offensive. Turn on the "profanity filter" in your Facebook page settings. Add words you'd like to block from comments and posts. You also can ban the hater if they continue to show bad behavior.
Final Takeaways
Two final points:
Respond to Positive Comments. When someone takes the time to post a positive comment, reply with a thank you note. Make it personal, especially with your name and position. They love knowing that a real person is responding - instead of a bot.
Monitor Your Comments. This is mission-critical if you have a business page. You must spend as much time moderating and responding to comments as you do posting content. The best way to get notified is through Facebook's email feature.
Clever Dogs Media provides social media strategy and content services. Contact us if you would like more information about your business engagement on Facebook.