How to Make Your Website Accessible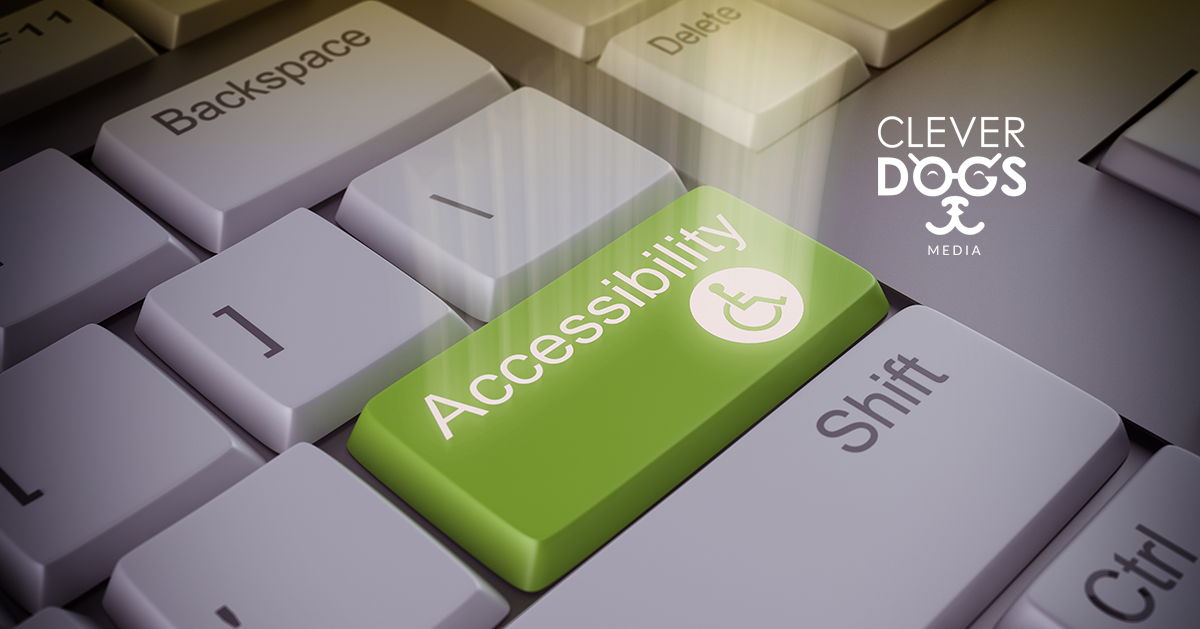 Does your website serve all visitors who want to know about your company or organization?
Can someone with a disability easily navigate the site and consume the content?
While website project teams primarily focus on messaging and branding, it is equally important (and legally responsible) to include accessibility for visitors who have disabilities.
The U.S. Centers for Disease Control and Prevention estimate that 26 percent of Americans - more than 61 million people - have a disability. That likely means about 15 percent of your website visitors need some type of adaptation to read and navigate your site.

A site short on accessibility features could face civil liability, especially if your organization is a public entity. That, alone, should not be the motivating factor. A website that has accessibility features is the right thing to do.
About Web Content Accessibility Guidelines
Published by the Web Accessibility Initiative (WAI), WCAG is an international standard for web content accessibility. Although the first version of the WCAG wasn't released until 2008, web accessibility guidelines have been around as long as the internet has. The first was published in 1995 by technologist Gregg Vanderheiden. Other authors added more web accessibility guidelines to create the Unified Web Site Accessibility Guidelines. This document became the basis of the Web Content Accessibility Guidelines 1.0, which were released in 1999.

WCAG 1.0 contained 14 guidelines. These guidelines included specifying alternatives for audio and video content, avoiding the use of tables for layout, and giving users controls over moving or blinking text.1
Our Recommendations
The WCAG standard can be complicated to fully implement and the rules are a bit ambiguous, especially for a small business or organization. That's why we have a list of basic features you should have on your website that not only comply with WCAG but also best serve those with disabilities:
1. Provide Descriptions for Images, Videos, Graphics
Most website content management software provides a place for alt-text or titles for images. One rule of thumb is to describe the image the way you would describe it to someone who cannot see it, such as someone on the other end of a telephone call. This text is seen by screen reader software which blind people use to access the web. This text can include keywords to help the user and your SEO program.
2. Make Your Design Responsive
The WCAG calls for content that is presented clearly, with clean backgrounds and predictable layouts on all platforms - large monitor, laptop, tablet or smartphone. This starts with headlines that are simple to read, and follow a structured format (H1 for page titles, H2 for next tier description and so on). Bullet point list formats and content bolded for emphasis also should be consistent between all platforms because this helps screen readers to present the content in clear, concise descriptions.
3. Make Your Content Easy to See or Hear
Website project teams too often try to introduce unique background designs, art elements or creative fonts to make their brand stand out. However, someone with a vision issue might not be able to read shades of blue or red or cannot delineate shading nuances. People who are colorblind cannot see text that uses an alternative color to emphasize a messaging point. Certain colors of your brand might not be readable if used as text or backgrounds. When trying to determine background or contrast colors, use software such as WebAIM to check if there might be accessibility issues.
4. Make Site Navigation as Easy as Possible
Wayfinding is a significant requirement for a website's Google scoring. It also is essential for visitors who have a disability. Your site's menu should be easy to read and have a natural progression to find content. Your Calls to Action should be descriptive, yet precisely written. The page title tag description (at the top) should be clear to users about what is on the page.
5. Write in a Clear, Concise Manner
When your content uses common phrases and correct grammar, assistive software renders text, caption, and pronunciation rules more accurately. As a result, users with disabilities will be better able to understand the content, according to Hubspot. Also, translation software such as Google Translate works best for other languages when the content is written in plain English.

6. Write Code with Accessibility in Mind
There are certain HTML codes that make your website more easily accessible and compatible with assistive software. This includes alt-text fields, keyboard navigation functionality and semantic HTML. When considering a CMS for your new website, ask if the developers use semantic HTML.
One Last Point
Website accessibility compliance is only as good as your commitment to ongoing maintenance of the site and updating its content. That is one reason why a do-it-yourself website software and the absence of a marketing professional on your team (in-house or out-sourced) can leave your site legally at risk and - more importantly - inaccessible to those who want or need your services.
Clever Dogs Media makes compliance a focus of our website projects. If you have questions, contact us.
1 Hubspot