Clever Dogs Media Launches New Website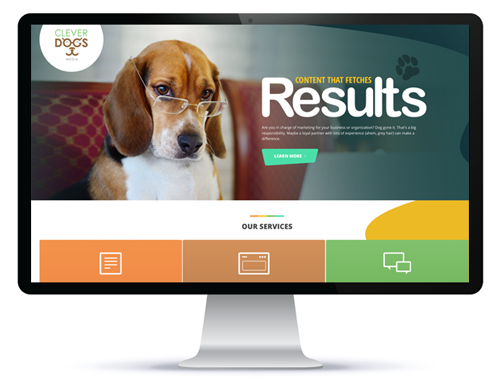 GREENWOOD, IN - To celebrate its first year of operation, Clever Dogs Media Inc. has announced the launch of a new website.
Powered by the new Zephyr Content Management System, the site tells the story about the marketing company and their scope of services.
Clever Dogs Media provides custom content, website development and marketing planning for businesses and nonprofit organizations. It is a partner agency with Zephyr, a website software company based out of Indianapolis.
Designed by Clever Dogs Media's strategic marketing partner SpinWeb in Indianapolis, the Clever Dogs Media website has:
a beautiful, responsive design

user friendly technology

integrated Search Engine Optimization

seamless integration with third party applications

and PCI compliance.

The new site uses a distributed system of servers and microservers, making it more secure and reliable.
"It's been a busy first year for us. We have completed several new websites and marketing plans for new clients, and now have business throughout Central Indiana," said Jeffrey Owen, Partner.
Most recent new clients include Techlocity IT Services in Fishers, The Wine Market at Fountain Square in Indianapolis, the Nineveh-Hensley-Jackson School Corporation in southern Johnson County and the new Garment Factory Events center in Franklin.
Partner Sean Miller also said Clever Dogs Media has expanded its resources and services. "We bring to the table more than 40 creative and strategic professionals who can meet our clients' needs," Miller said.
Clever Dogs Media is located at 310 West Main Street in Greenwood, in the city's historic Old Town district.